Staff Insights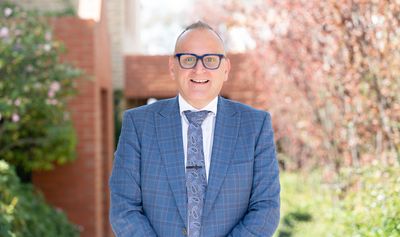 When Perspective Matters
"Our point of view is directly related to our viewing point."
Read more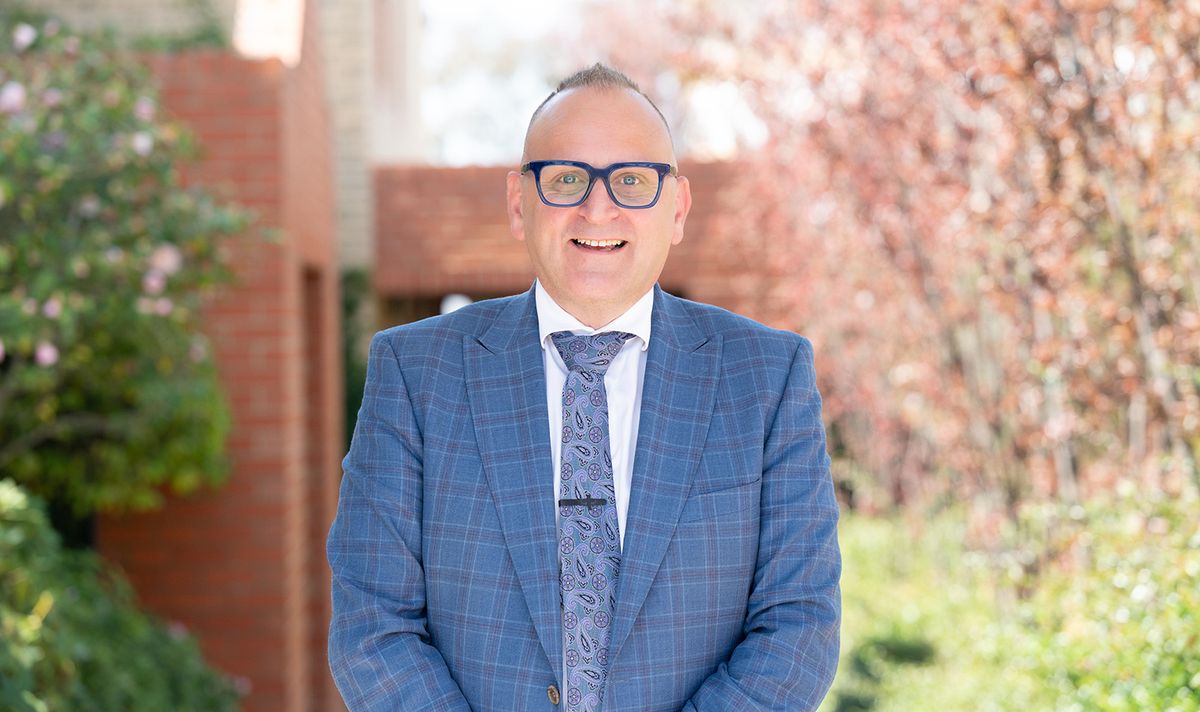 By Mr Andy Gordon, Acting Principal
The Radford College community is vibrant, exciting and inspiring. We have so many learning, sporting and cultural activities and celebrations that run alongside and into each other that often, we barely have an opportunity to appreciate what we have just achieved.
Paralleling these activities and celebrations are our learning experiences that come out of the highly effective teaching and learning that happens each and every day in our classrooms. With all of this occurring, both for us as adults and for our students, it is important to keep in mind that our community is made up of many different people with many different ideas and hopes.
I have a favourite saying or belief that goes, "Our point of view is directly related to our viewing point." By this, I mean many of us will have differing points of view simply because we are looking at the same thing from a different viewing point.
We have a beautiful College community, and there can be times when people don't or can't get along with respect and kindness. This is as true for adults as it is for our learners.
Conflicts in any community are inevitable purely because human beings are involved. A conflict doesn't necessarily mean that one person is right and the other person is wrong. Sometimes, it is simply because people have different viewing points. Keeping this in mind and listening to other people's points of view should help us to understand where the other person is coming from. Rarely does disagreement result in a fractured relationship; it is judgement that breaks trust and closes lines of communication. Empathy is the beginning of an understanding and humble spirit. I think it is incredibly important that the adults in our community live and model this well.
Conflict resolution is not easy. It relies on maturity and emotional regulation. I have a little saying that says, "Anger and negativity rarely travel alone." By that, I mean there is usually something else going on that may not be obvious yet. However, usually, given time, this will come to the surface. I tend to give people room in their anger and negativity simply because these emotions and actions are usually just vehicles to discovering what is beneath the frustration or disagreement.
When matters arise with your young people, it is also understandable that emotions are high. It is okay to be emotional and to seek clarification and challenge respectfully. At Radford College, we should resolve to always commit to doing this with care for each other. Our heads of year, teachers, and support staff need and deserve a strong working relationship that is grounded in mutual care, warmth and respect with you.
It is important that we, as a community of young people and adults, have the skills, resources and character to resolve conflict appropriately.

Anonymous Correspondence
College leadership recently received anonymous correspondence regarding teaching practices from some 'friends of Radford'. While we have noted the anonymous correspondence, it is not helpful to resolving conflict or seeking to clarify a different viewpoint. We maintain that in a world in which we know that hope in the future relies on trust, collaboration, and effective communication, anonymous correspondence plays no part. All it does is seek to raise emotions, without the context of the author or authors, and infers that there is not serious enough concern to resolve the challenge or conflict respectfully. When we honestly believe we have something important to discuss or resolve, we must equally be honest enough to have the important conversation with trust, collaboration, and effective communication.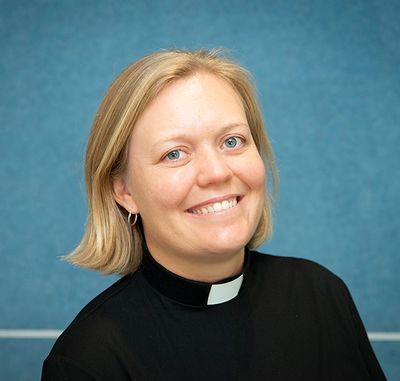 Following the Ten Commandments Today
Living with right relationships, rest, and contentment.
Read more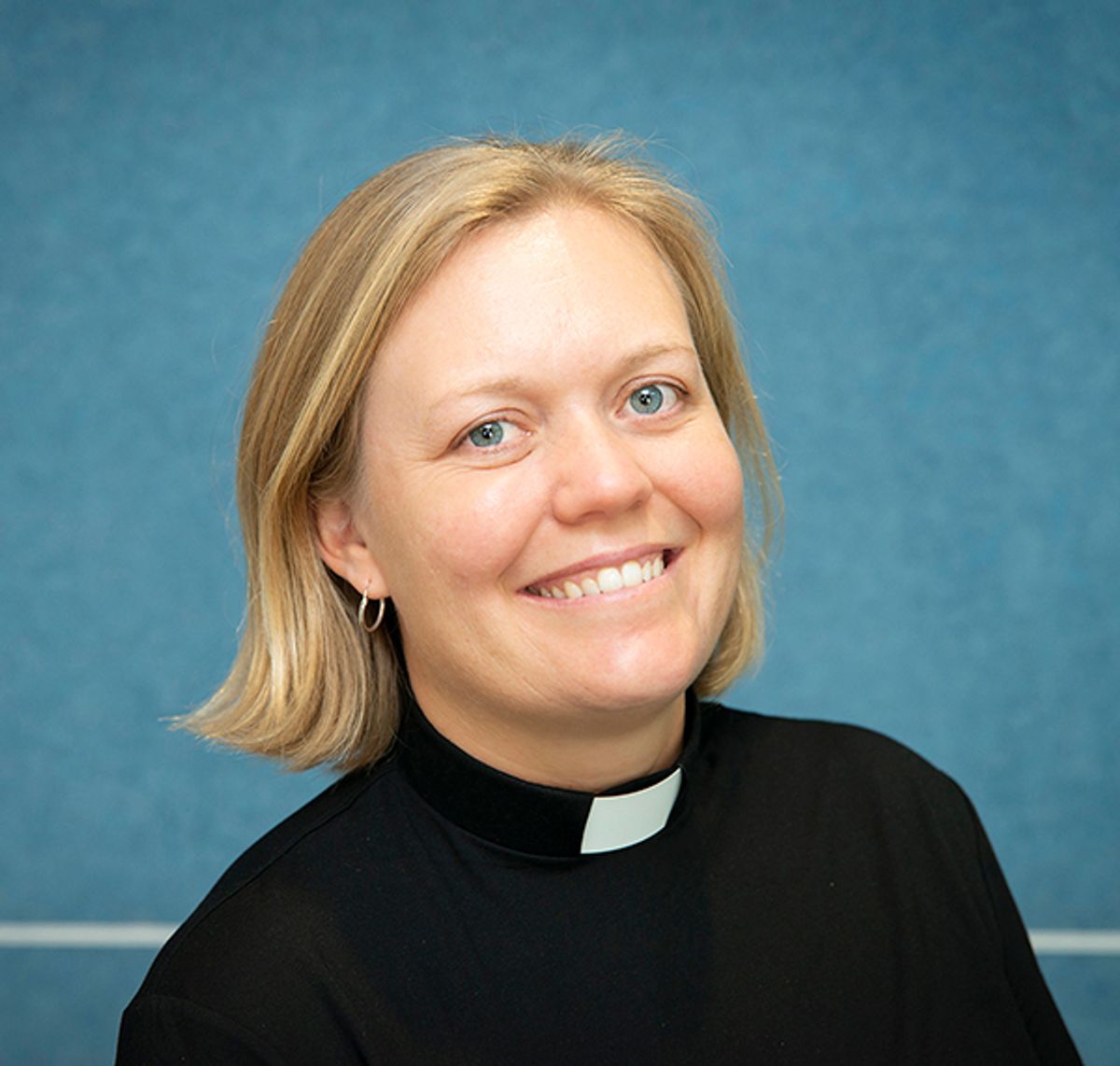 By Rev. Dr Katherine Rainger, Senior Chaplain
I wonder what comes to mind when you think of the Ten Commandments. Maybe Charlton Heston's epic film The Ten Commandments, Indiana Jones' search for the lost Ark of the Covenant, or that episode of the The Simpsons?
I remember studying The Crucible at school and the poignant scene in which John Proctor is asked to recite the Ten Commandments. He recites nine of them easily, however, he cannot recall the commandment about adultery. His lapse in memory gives the audience an insight into where the plot is heading.
The Ten Commandments are a moral code shared by Jews and Christians. Their influence extends beyond cultural and religious references and into our secular laws. At their heart, the Ten Commandments are an invitation to a right relationship with God and each other.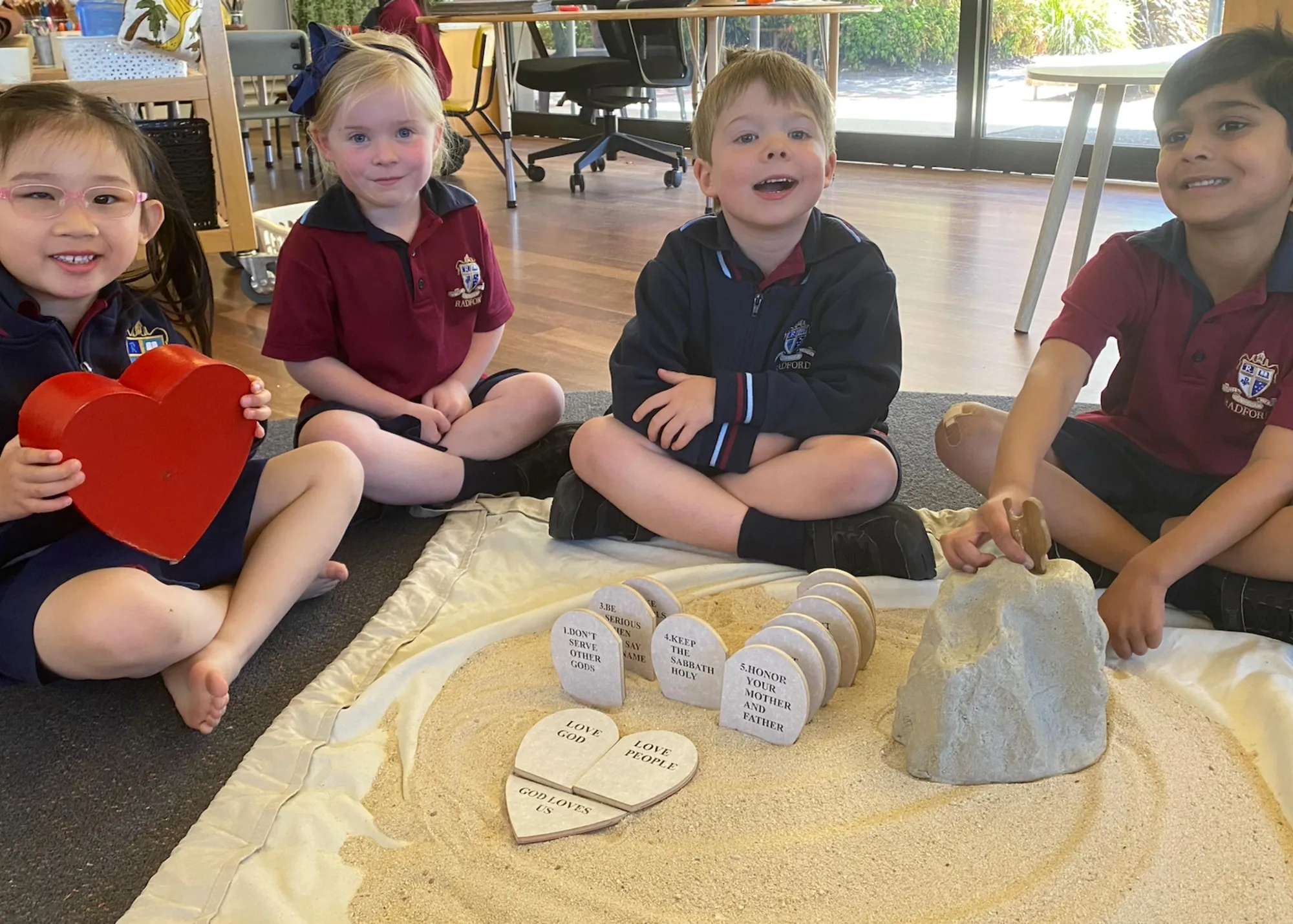 In Godly Play, a hands-on approach to biblical storytelling and spiritual formation, the Ten Commandments are taught as 'the ten best ways'. They are kept in a heart-shaped box. Radford students in Pre-Kindergarten to Year 2 are introduced - in age-appropriate ways - to the biblical story of Moses, who received the 'ten best ways' on Mount Sinai. The commandments are summed up as: "Love God, love people, God loves us."
Matthew Schlimm has written an insightful piece that explores the interpretation of each commandment in the past and present. There are aspects of the Ten Commandments that need unpacking for context and application. For example, the reference to slaves is both troubling in terms of normalising slavery and enlightened in the sense that slaves were also included in the edict to rest on the Sabbath and, therefore, to cease work for a period.
As I approach the Ten Commandments, I am struck by their relational nature. The first three speak of relating to the God who liberates and renews; the God who has revealed himself as the one who has called the people out of slavery under the pharaoh in Egypt and into a new future.
Commandments five to ten speak of relating to each other in a community in which our individual actions have the potential to heal and to harm. The commandment not to covet is an invitation to contentment in a world that encourages us to 'keep up with the Joneses' at any environmental or personal cost.
The fourth commandment is a hinge that links our relationship with God and each other. Sabbath rest is a gift. It is an invitation to enter the holiness of rest, to have a break from work, to be renewed and refreshed, and to be open to God, ourselves and each other. As people made in the image of God, we both honour and imitate God in taking time to rest.
Here are the Ten Commandments, adapted from Exodus 20:1-17, from the New Revised Standard Version of the Bible:
And God spoke all these words:
I am the Lord your God, who brought you out of Egypt, out of the land of slavery. You shall have no other gods before me.
You shall not make for yourself an image in the form of anything in heaven above, or on the earth beneath, or in the waters below.
You shall not misuse the name of the Lord your God.
Remember the Sabbath day by keeping it holy. Six days you shall labour and do all your work, but the seventh day is a sabbath to the Lord your God. On it you shall not do any work, neither you, nor your son or daughter, nor your male or female servant, nor your animals, nor any foreigner residing in your towns. For in six days the Lord made the heavens and the earth, the sea, and all that is in them, but he rested on the seventh day. Therefore, the Lord blessed the Sabbath day and made it holy.
Honour your father and your mother.
You shall not murder.
You shall not commit adultery.
You shall not steal.
You shall not give false testimony against your neighbour.
You shall not covet your neighbour's house. You shall not covet your neighbour's wife, or his male or female servant, his ox or donkey, or anything that belongs to your neighbour.
Below is a prayer for Sabbath rest that we can pray for ourselves while also praying for those in our world who long for violence to end and peace and justice to prevail.
God of rest,
today I make the active choice
to enter into your rest,
and to join with you
in delighting in this good world you have made,
and dreaming of the perfect world you will remake.
I choose to tune out,
of demands and deadlines,
of performance pressures,
of flickering screens,
of that which robs my soul of joy,
and the ways in which the world
seeks to define and shape my identity.
I choose to tune in,
to your affirmation and love,
to the celebration of freedom,
to worship and your word,
to the enjoyment of that which fills my soul with joy,
and reminds me of my identity in Christ,
as a deeply loved child of God.
Amen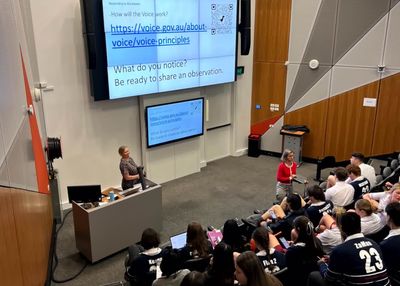 Reflections on the Referendum
Generous consideration, Year 12 forum, Radford polling place and BBQ.
Read more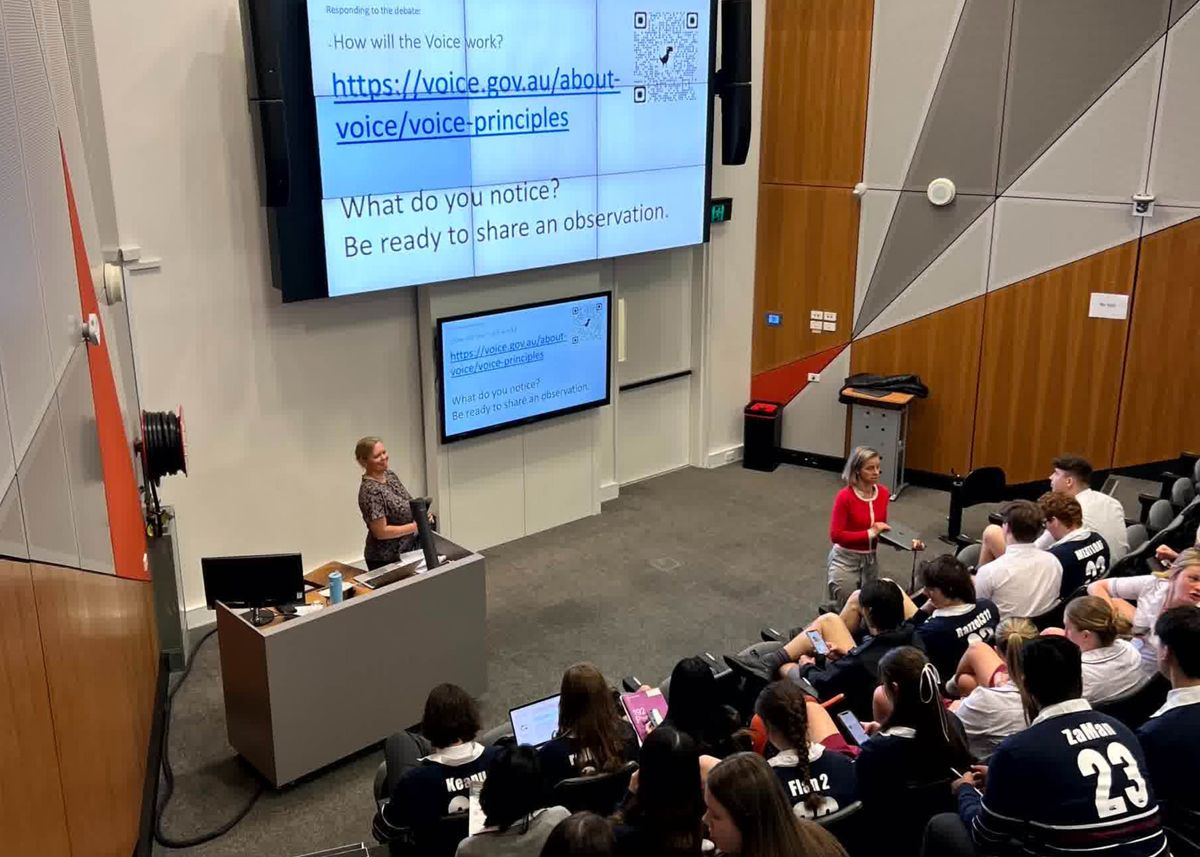 Mr Andy Gordon, Acting Principal and Rev. Dr Katherine Rainger, Senior Chaplain
On Saturday, Australians will vote in a referendum to alter the Constitution to recognise the First Peoples of Australia by establishing an Aboriginal and Torres Strait Islander Voice.
As outlined in the Voice Principles, this body will give independent advice to the Parliament and Government. It will further the self-determination of Aboriginal and Torres Strait Islander peoples by giving them a greater say on matters that affect them.
As we prepare to vote, it is helpful to return to the question being asked and the changes to the Constitution that are being proposed.
What is the question for the Voice referendum?
The question that will be put to the Australian people at the 2023 referendum will be:
"A Proposed Law: to alter the Constitution to recognise the First Peoples of Australia by establishing an Aboriginal and Torres Strait Islander Voice.
Do you approve this proposed alteration?"
What is the proposed change to the Constitution?
The proposed law that Australians are being asked to approve at the referendum would insert the following lines into the Constitution:
Chapter IX Recognition of Aboriginal and Torres Strait Islander Peoples
129 Aboriginal and Torres Strait Islander Voice
In recognition of Aboriginal and Torres Strait Islander peoples as the First Peoples of Australia:
i. There shall be a body, to be called the Aboriginal and Torres Strait Islander Voice;
ii. The Aboriginal and Torres Strait Islander Voice may make representations to the Parliament and the Executive Government of the Commonwealth on matters relating to Aboriginal and Torres Strait Islander peoples;
iii. The Parliament shall, subject to this Constitution, have power to make laws with respect to matters relating to the Aboriginal and Torres Strait Islander Voice, including its composition, functions, powers and procedures.
Generous Consideration
As an Anglican school, we recognise the General Synod Standing Committee of the Anglican Church of Australia's statement, which welcomed the invitation expressed by Aboriginal and Torres Strait Islander people in the Uluru Statement from the Heart and urged "all Australians to give generous consideration to the case to vote 'yes' in the upcoming referendum concerning constitutional recognition of an Aboriginal and Torres Strait Islander Voice in the Constitution" (SC2023/1/55, 8 June 2023).
As the Right Reverend Dr Michael Stead, Bishop of South Sydney suggests, generous consideration means accepting the possibilities and potential success of the Voice as the starting point in our decision making.
A statement was made at the 2023 Anglican Schools Australia Conference that affirmed the Uluru Statement from the Heart and the Voice to Parliament.
Previous Bulletin reflections and resources can be found here, here and here.
An analysis of the 'yes' and 'no' cases can be found here.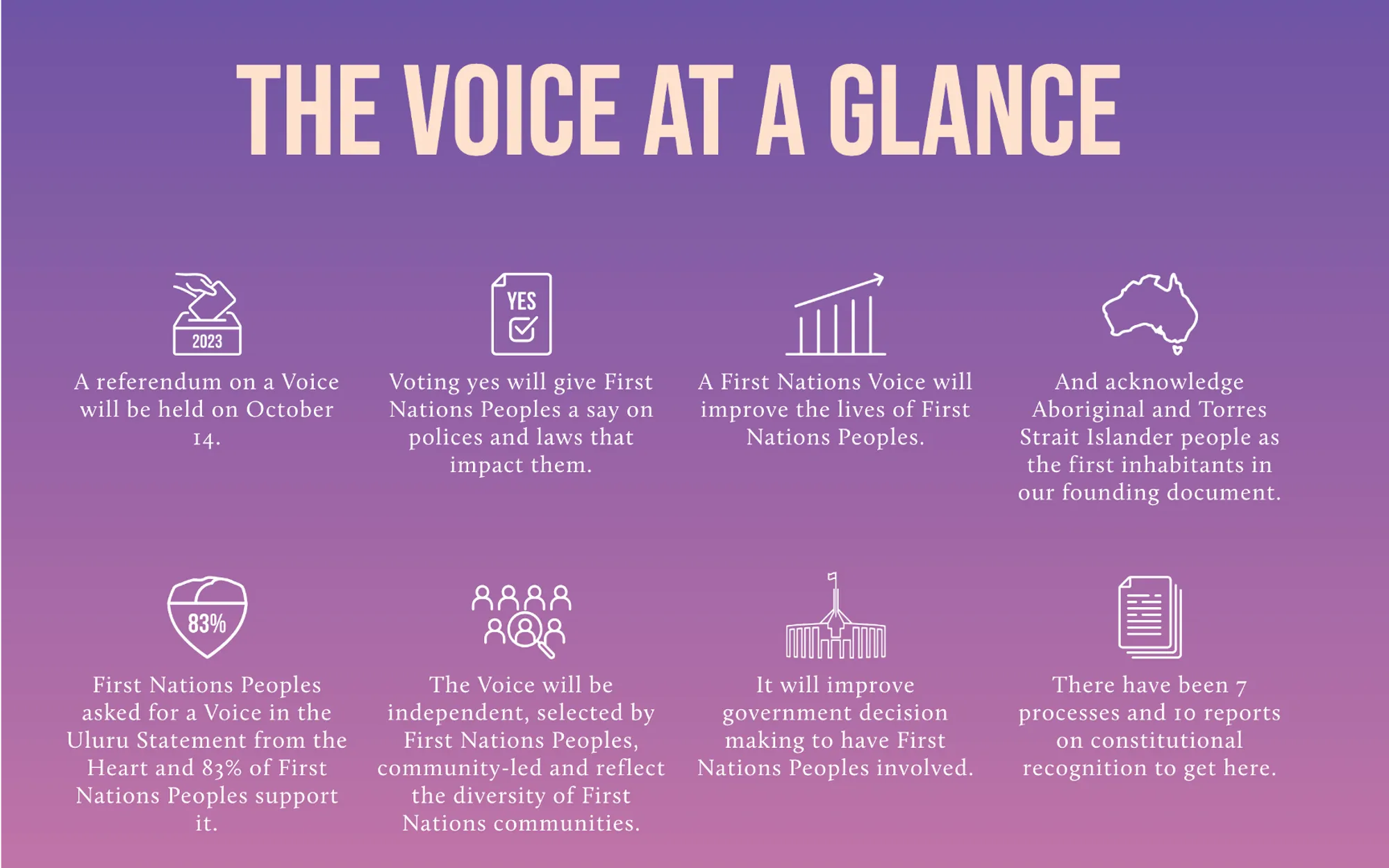 Year 12 Forum on the Referendum
Last Tuesday, Year 12 students participated in a forum on the referendum. This was held in Z-Line, the fortnightly period set aside for senior students to discuss current affairs, career advice, and course requirements.
This forum was requested by students who wanted to better understand the issues surrounding the referendum. Tuesday's forum was a focused look at the proposed referendum question, the debate surrounding the Voice and the history and context of the proposed Aboriginal and Torres Strait Islander Voice to Parliament.
Last year, students engaged in a Z-Line session with Aboriginal Christian leader Brooke Prentis, in which she explained the history and content of the Uluru Statement from the Heart so students were well placed for this conversation on the Voice.
Students were given the opportunity to ask questions before, during and after the presentation. The presentation began with the skit created by Vic Zerbst and Jenna Owen featuring the rapper Adam Briggs. The key message for us was "Google it" and engage with the issue at hand.
Students and staff spent some time looking at the wording of the proposed change to the Constitution. In small groups, we discussed the Voice Principles to see how the Voice would be set-up, its function, purpose and safeguards.
Understanding the bipartisan journey and First Nations advocacy on the path to self-determination and constitutional recognition were next on the agenda via shared exploration of the journey so far section of the Uluru Statement website.
We discussed advisory bodies that give advice to the parliament and government, previous bodies which have done the same in Indigenous affairs, and what the referendum in 1967 achieved in terms of amending the 'race power' in Section 51 of the Constitution and including Aboriginal people in the census.
Overall, it was a very informative session that covered a lot of ground while reiterating the central proposition of the referendum: recognising Aboriginal and Torres Strait Islander peoples through a Voice to advise parliament and government on Aboriginal and Torres Strait Islander polices and strategy.
Radford Polling Place and BBQ
R.A. Young Hall at Radford College is a polling place for the referendum on Saturday, 14 October, from 8 am-6 pm. We will be running a BBQ and would love to see you there. Please note that the BBQ will only accept card payments as there will be no cash available.

News