Staff Insights
Lest We Forget
Secondary School students commemorate Remembrance Day.
Read more
By Mrs Louise Wallace-Richards, Assistant Principal Teaching and Learning
Last Friday at 11 am, Radford College Secondary School students commemorated Remembrance Day. In classes, they learned about the significance of the day and recited the Ode, the fourth stanza of the poem, For the Fallen, by English poet Laurence Binyon:
They shall grow not old, as we that are left grow old:
Age shall not weary them, nor the years condemn.
At the going down of the sun and in the morning
We will remember them.

The poem gently reminds us of the sacrifices of those who fought and died in conflict, concluding with the words: "Lest we forget." This phrase translates to "it should not be forgotten," emphasising the importance of remembering, with a hint of concern that we might forget.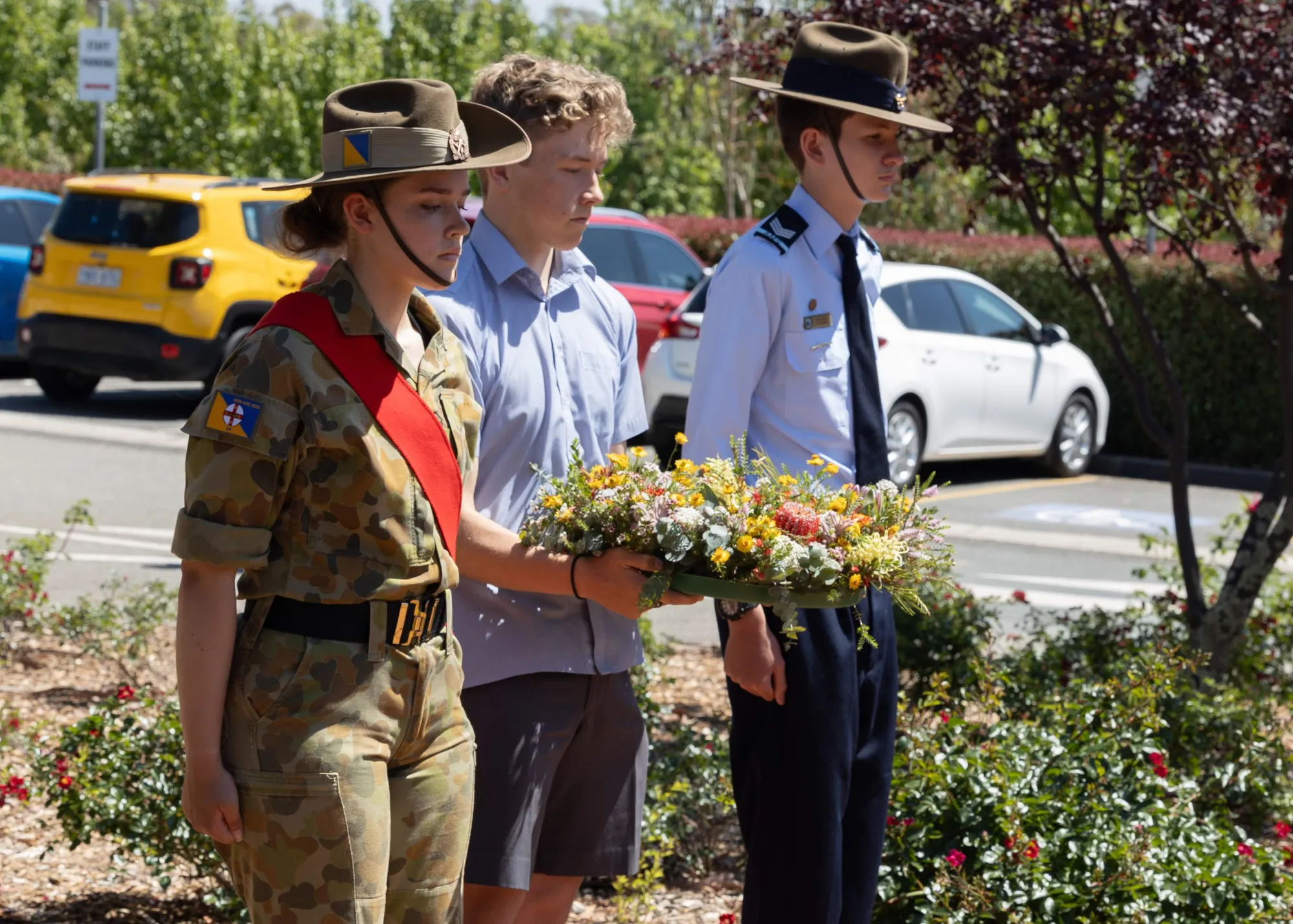 The First World War ended 105 years ago last Saturday. Since 11 November, 1918, many more lives have been lost in conflicts and the futility of war and written about by many poets, most notably Wilfred Owen, another WWI English poet.
Futility
By Wilfred Owen, 1918

Move him into the sun—
Gently its touch awoke him once,
At home, whispering of fields half-sown.
Always it woke him, even in France,
Until this morning and this snow.
If anything might rouse him now
The kind old sun will know.
Think how it wakes the seeds—
Woke once the clays of a cold star.
Are limbs, so dear-achieved, are sides
Full-nerved, still warm, too hard to stir?
Was it for this the clay grew tall?
—O what made fatuous sunbeams toil
To break earth's sleep at all?

Owen, a pacifist, joined the war to experience its horrors firsthand. Tragically, he lost his life shortly before WWI ended. Owen writes much more critically about war and the loss of life than Binyon. He poses thought-provoking questions in his poems, reflecting his confusion about the fate of his comrades and his despair at the existence of humanity if all we do is harm one another - "O what made fatuous sunbeams toil...To break earth's sleep at all?"
Poetry was a means for people on the home front to grasp the realities of WWI. As time progressed, photography and news reels also served this purpose. In the 1960s and 1970s, television brought the horrors of the Vietnam War into Australian households. More recently, we and our children have witnessed the suffering caused by wars in Ukraine and Gaza and Israel through television and social media platforms.
So, when we commemorated Remembrance Day at Radford last Friday, we remembered all of those who have died and suffered through conflicts, both military and civilian. We also reflected upon those currently facing suffering and recognised the value of human life, acknowledging the sacrifices made to safeguard our freedom. Lest we forget.
Our Year 10 students attended the service with Cadets Isobel Higgins and Isaac Walker leading the flag lowering at the start of the ceremony and then raising the flag during the Reveille. Mr Kevin Knapp kindly played The Last Post and the Reveille and Sofia O'Brien read the Ode. 2024 House Vice-Captains were in attendance and also assisted with other duties during the ceremony.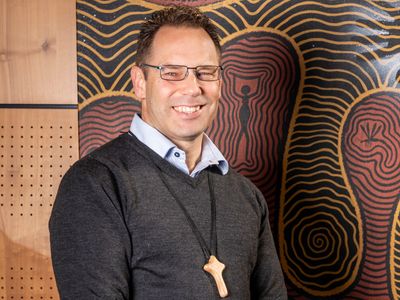 Following Mary's Example
Connecting with others at this time of change and uncertainty.
Read more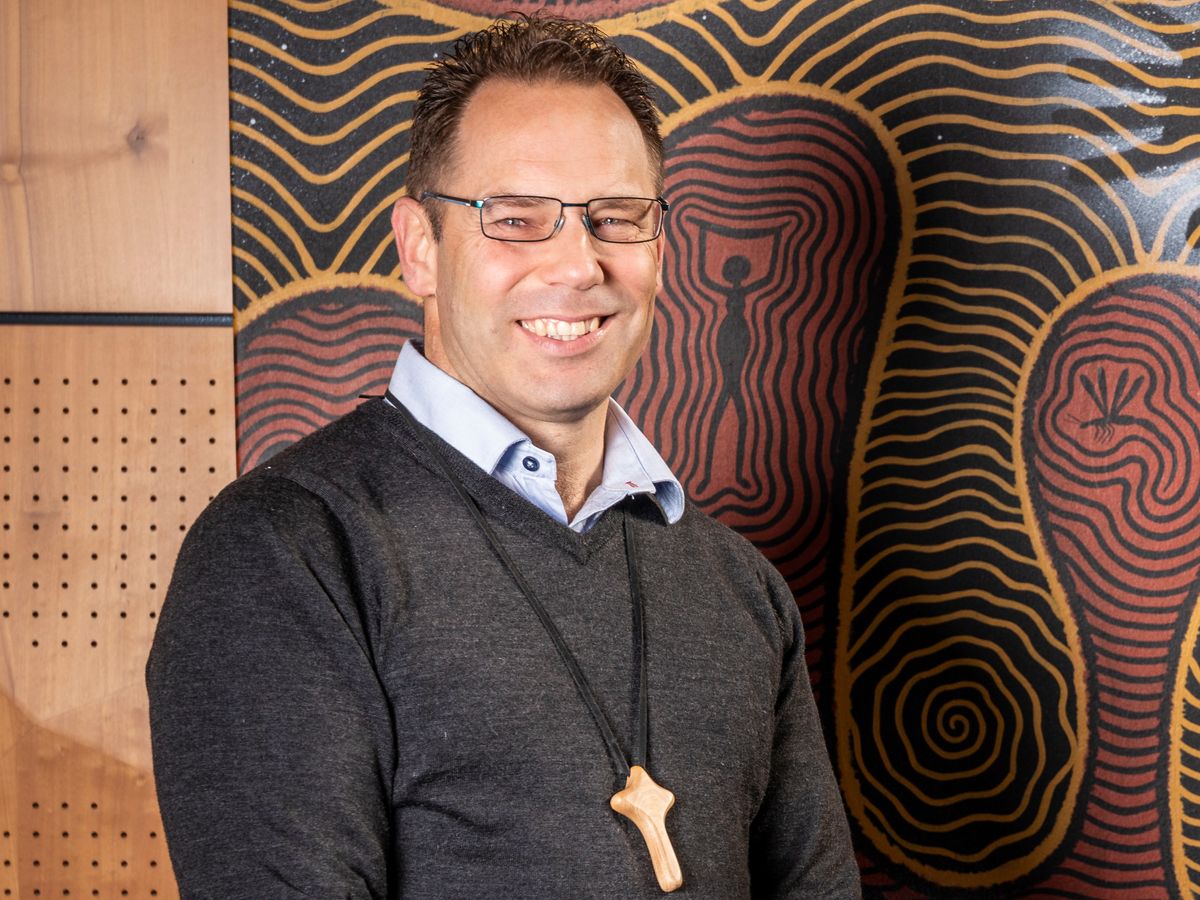 By Reverend Andy Fleming, Chaplain
Over the past week, I've witnessed a variety of responses from Year 12 students as they complete their final Secondary School exams. From the stark realisation that they're about to go into the 'real world' they've heard so much about, to the relief and utter joy of finally finishing school.

Having a son finishing Year 12 myself, my parenting ability is being put to the test. I try my best to support him as he begins to navigate moving from the safe haven of Radford College to the next chapter of his life. I imagine there are a number of Radford parents going through similar experiences.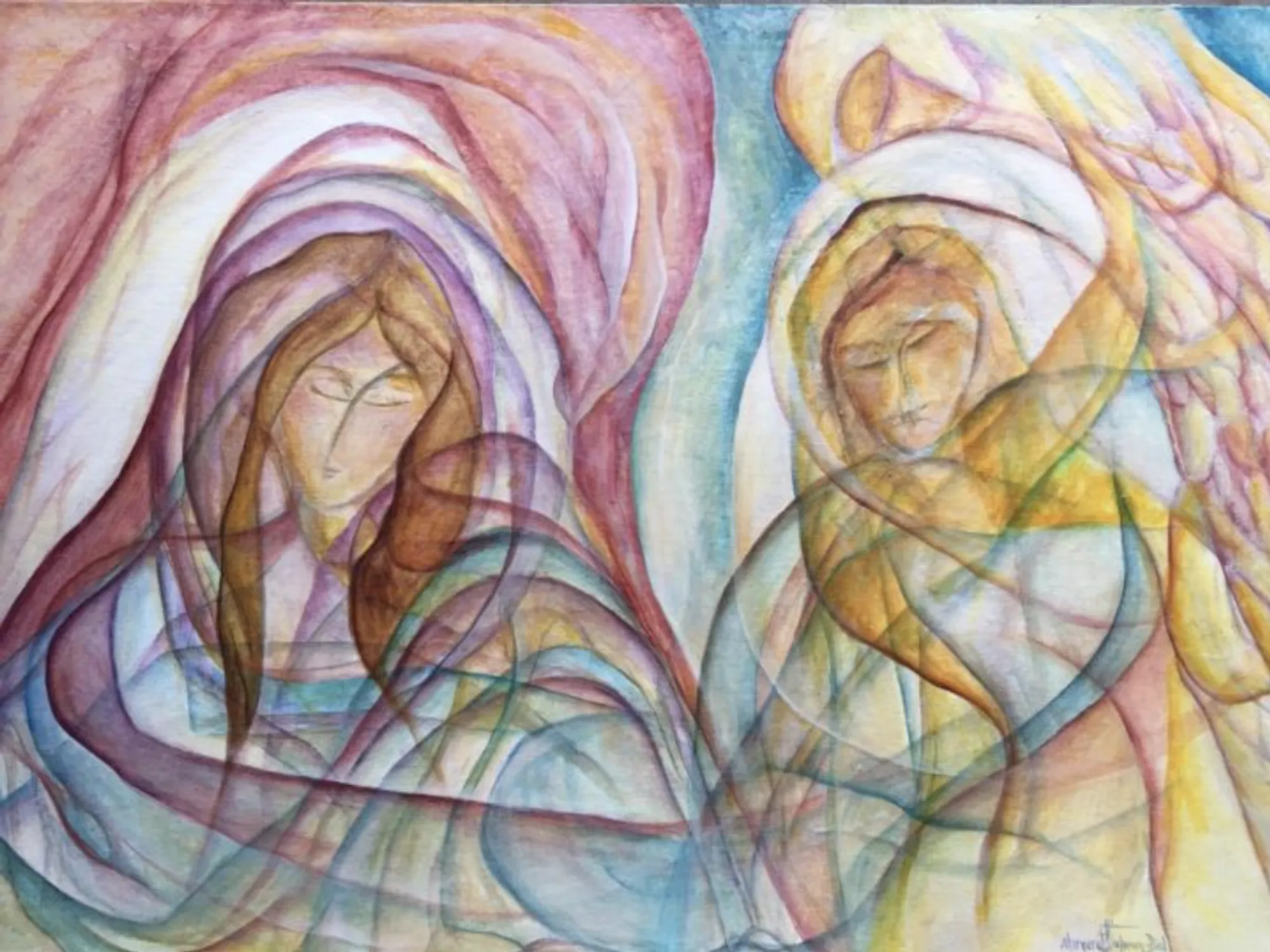 In the story of the annunciation – when Mary is told by the angel Gabriel that she will give birth to Jesus, I imagine she must have felt somewhat unsettled. She must have had some apprehension for, not only her future, but also that of baby Jesus.
In the ancient culture in which she lived, there was great personal risk to Mary for bearing a child out of wedlock. Coupled with the excitement of Gabriel's news, I imagine that this must also have been an emotionally overwhelming time for her. Perhaps Mary's story is an invitation to sit with those who are experiencing conflict and inner turmoil.
Despite our fears and uncertainty, we are meant to seek out the opportunities to move through challenging and sensitive times together, just as Mary did with Jesus, and Jesus did himself.

I can remember holding my son for the first time and being fearful of dropping him. The doctor noticed this and remarked that the fear I felt in that moment would be nothing compared to when he was a young man finishing school. Fortunately, this is far from the reality, as we share in our son's joy as he celebrates the milestone of completing school.
Perhaps connecting with others and being able to share the things that both unsettle us and bring us joy, is what gives us peace and hope.
Go in peace,
Rev. Andy

News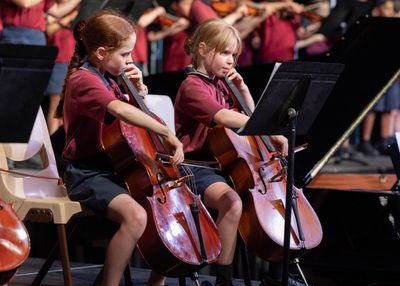 Year 3 Strings End-of-Year Concert
A gallery of photos from Year 3's final Strings Concert.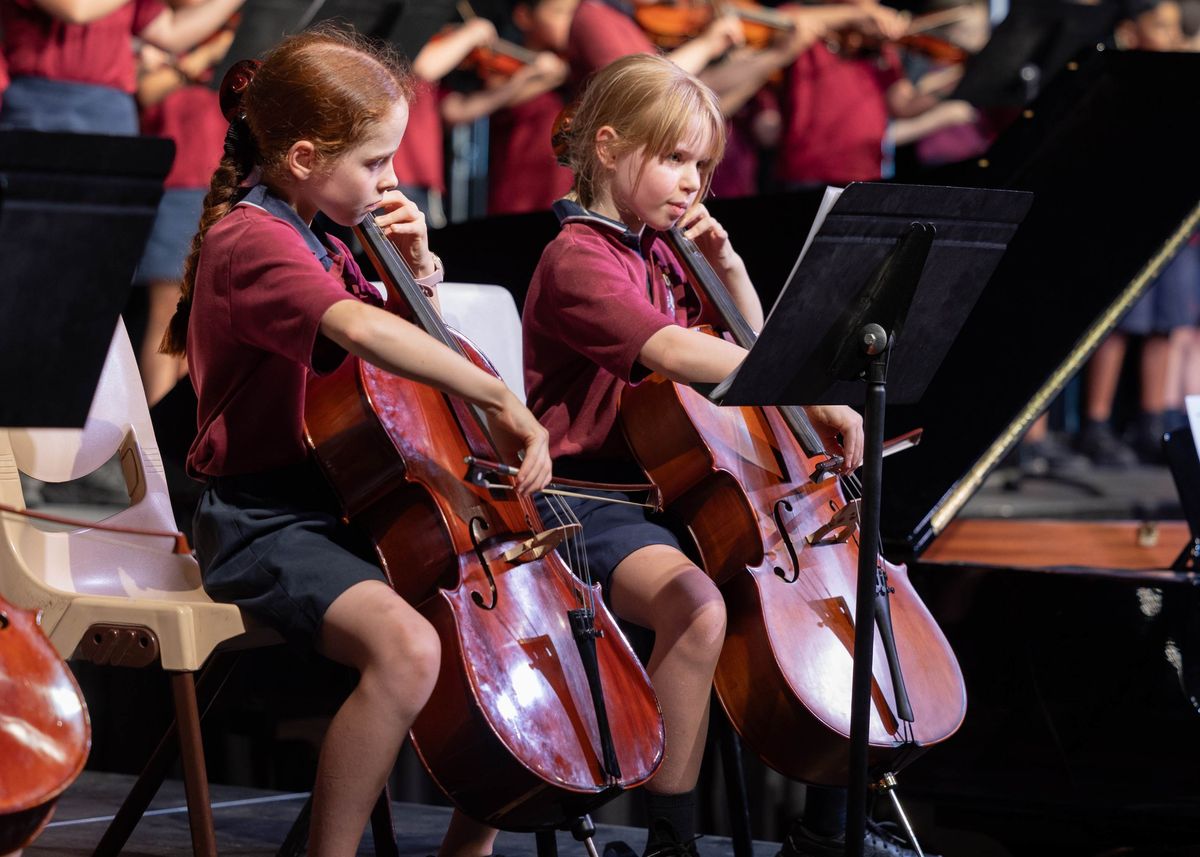 By Mrs Kirsten Knight, Head of Co-Curricular Music and Director of Strings

Our Year 3 students presented their final Strings Concert for the year last Wednesday, 8 November. The students presented all the songs they had worked on during Semester 2.
They sang, plucked and bowed their way through nine tunes and even presented a humorous musical poem to finish the evening.
All the students involved should be incredibly proud of their achievements on their instruments this year. They sounded fantastic!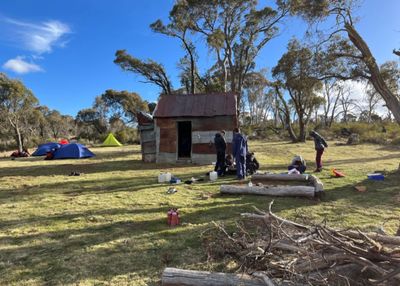 Year 10 Camp in Cooleman Plains
An unforgettable journey of friendship and growth.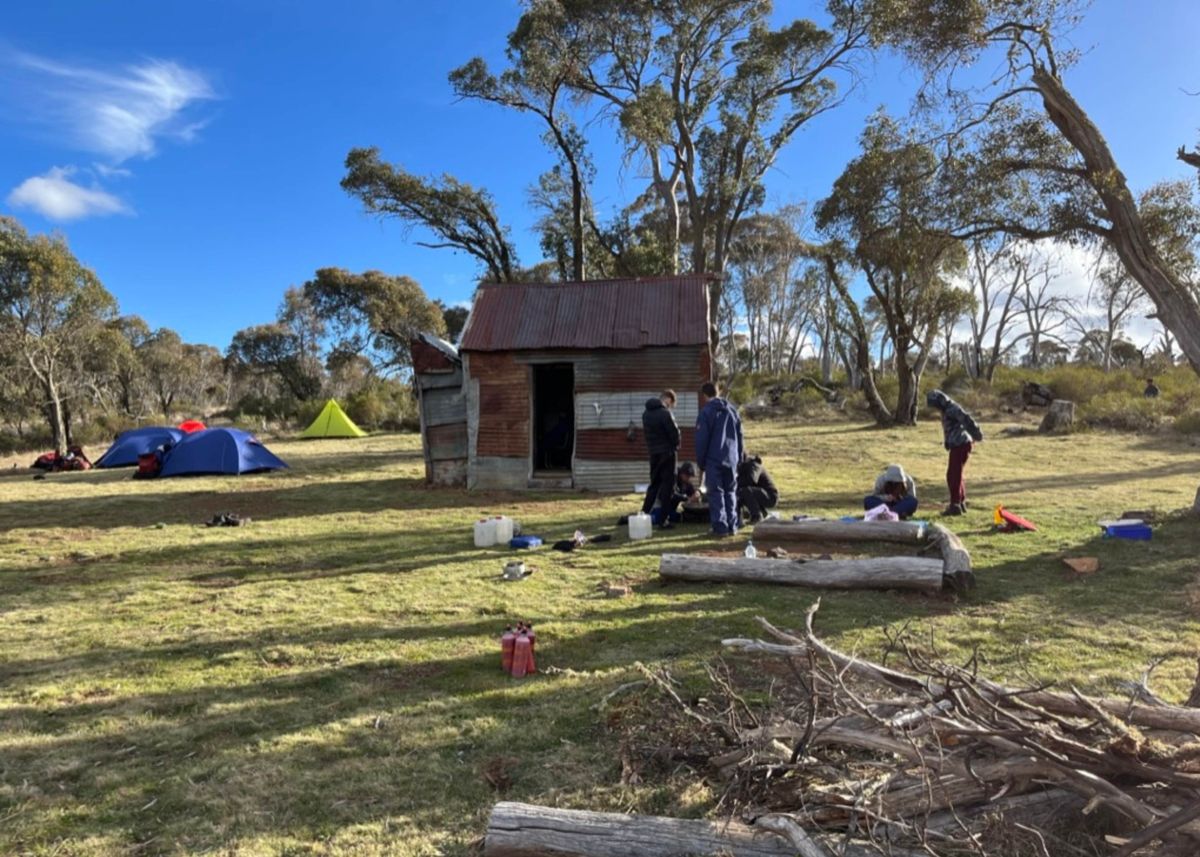 By Astrid Kenna, Year 10 student
Year 10 Camp was an experience that shaped the whole cohort and brought us closer together.
Despite everybody turning up at the Australian Institute of Sport bright and early on Tuesday, 24 October, with mixed feelings of excitement and uncertainty, we all left camp tired yet happy with the memories we made, the friendships we formed, and the fact that we didn't have to walk with raw blisters anymore.
We spent eight days in the Cooleman Plains hiking, playing games, cooking, camping and looking forward to a bed and shower. However, when it came time to go home, we felt bittersweet to leave our camp leaders, groups and the whole adventure.
Overall, camp was a fun experience that created friendships and memories that will last for the rest of our lives!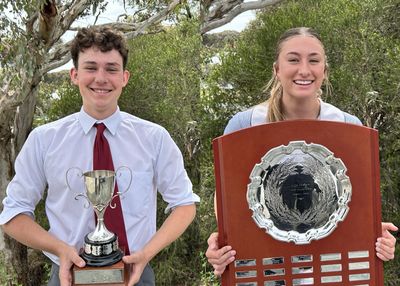 Sports Report: Term 4, Week 6
National Indoor Rowing and Asia Pacific Cup results.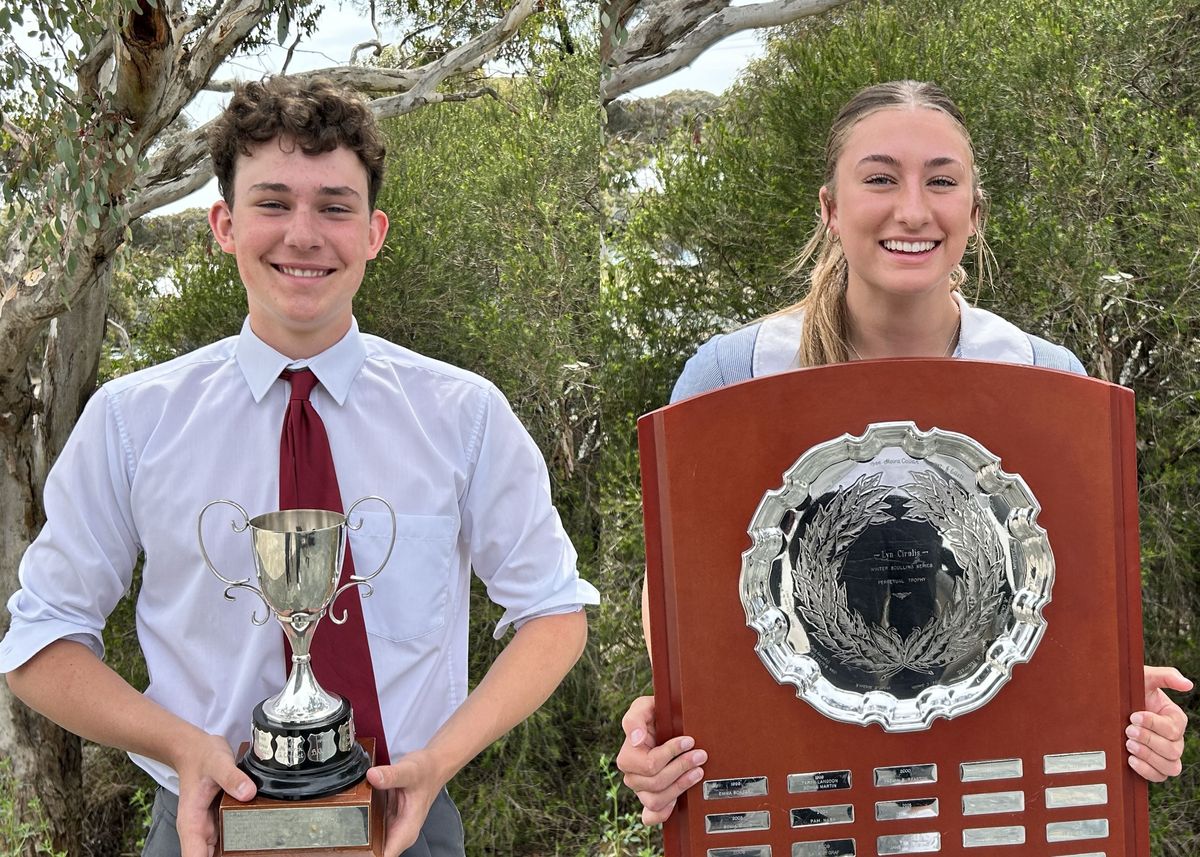 Rowing ACT and National Indoor Rowing Championships 2023
By Mr Gordon Marcks, Head of Rowing
Over winter, from May until September, Rowing ACT conducts a series of long-distance time trials. With the Radford rowing program running all year, this is a fantastic event to get through the long winter months, with competitions held every four weeks.
Rowers receive points over the series, and trophies are awarded to the highest-ranked female and male scullers. This is the Lyn Cirulis Plate for the women and Mark Kwiatkowski Cup for the men.
These trophies are notoriously difficult to win, requiring not only rowing talent and ability but also perseverance, resilience and dedication.
This winter, Radford students won both the men's and women's point scores, and the winners were well deserving.
Zara Turner (Year 10) was the worthy winner of the Lyn Cirulis Plate, and Hamish McKee (Year 11) was the winner of the Mark Kwiatkowski Cup. To win both the men's and women's point scores is a great achievement for Radford rowing and we can be very proud that their names will be on these trophies alongside others who have gone on to do amazing things in the sport.
More recently, we competed in the Australian Indoor Rowing Championships 2023.
Radford rowers spend a lot of time on the rowing machines, and with indoor rowing becoming more popular as a sport in its own right, it was fantastic to see some amazing results from our students.
Medals were awarded to the following Radford students:
Bronze Medal in the Women's U14 500 metres - Eliza Punch (Year 8)
Silver Medal in the Men's U16 500m - Charlie Knight (Year 9)
Gold Medal and competition record in the Men's U14 1000m - Will Fraser (Year 8)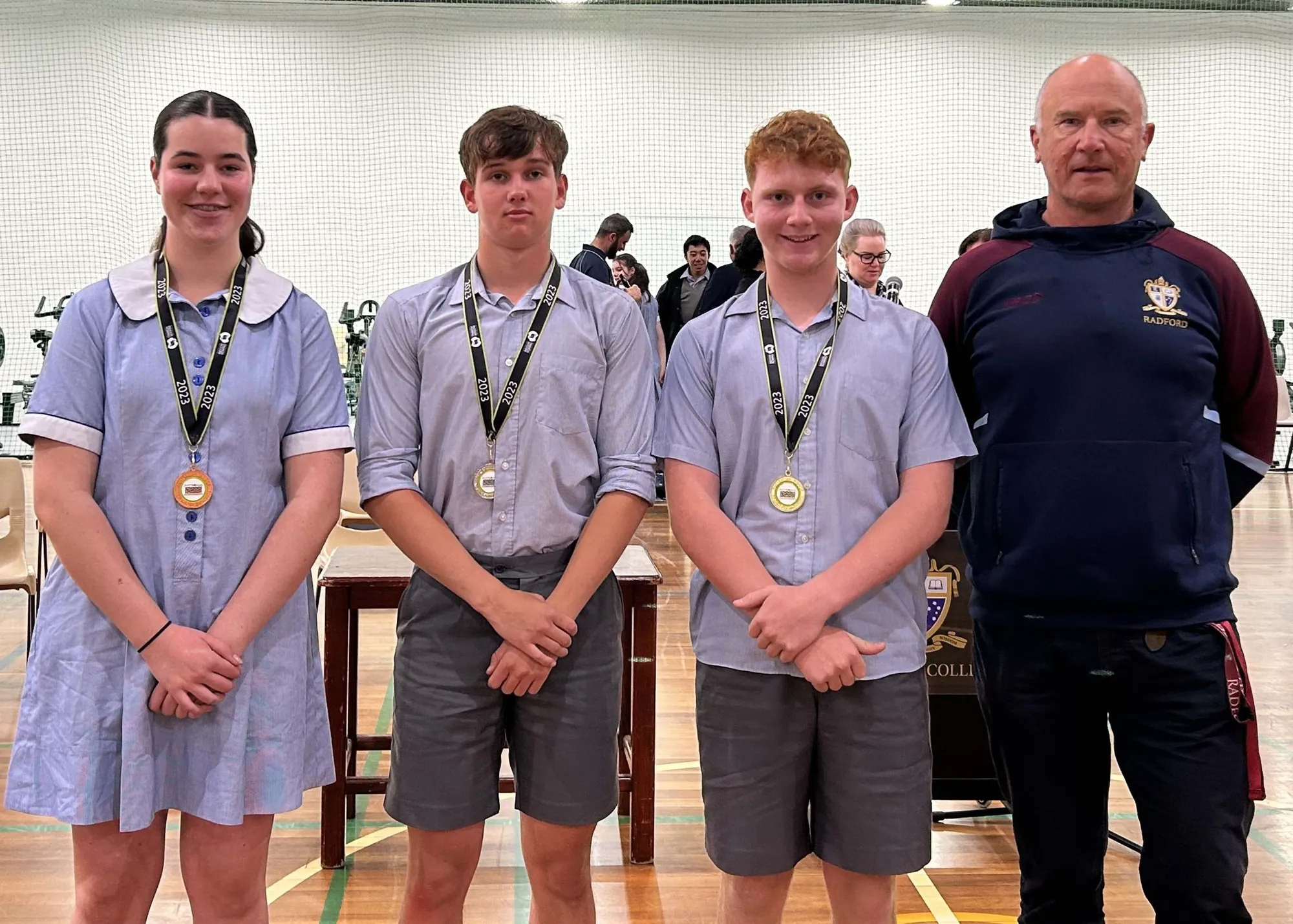 Asia Pacific Cup - Basketball

By Mr Ryan Kinnane, Head of Basketball
Between 26-29 October, six Radford College students (pictured below) participated in the tenth annual Asia Pacific Cup in Singapore. Lachlan Horrobin (Year 9) and Sebastian Russell (Year 9) represented the U15 men's Scorers Academy team. Madi Scholfield (Year 9), Poppy Smith (Year 8), Kaiya Barsby (Year 9) and Charlie Russell (Year 7) contributed to the success of both the U15 and U18 women's Scorers Academy teams.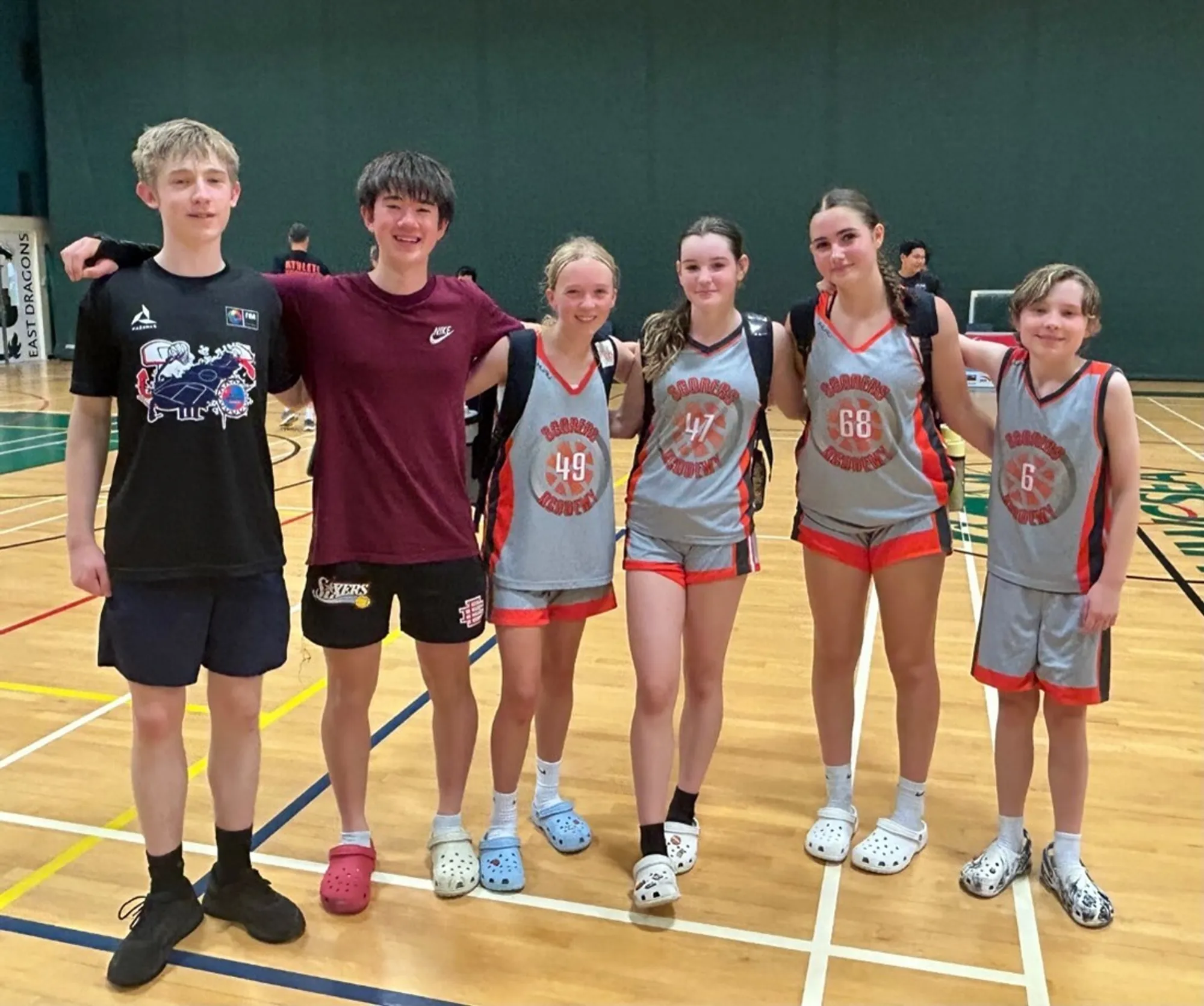 The students not only showcased their skills on the court but also immersed themselves in the rich cultural experiences that Singapore had to offer. The U15 women's team emerged as champions of the competition, while the U18 team secured the runner-up position.
The Radford basketball team extends its heartfelt congratulations to all the athletes for their outstanding accomplishments.
Coerver Coaching ACT Holiday Camps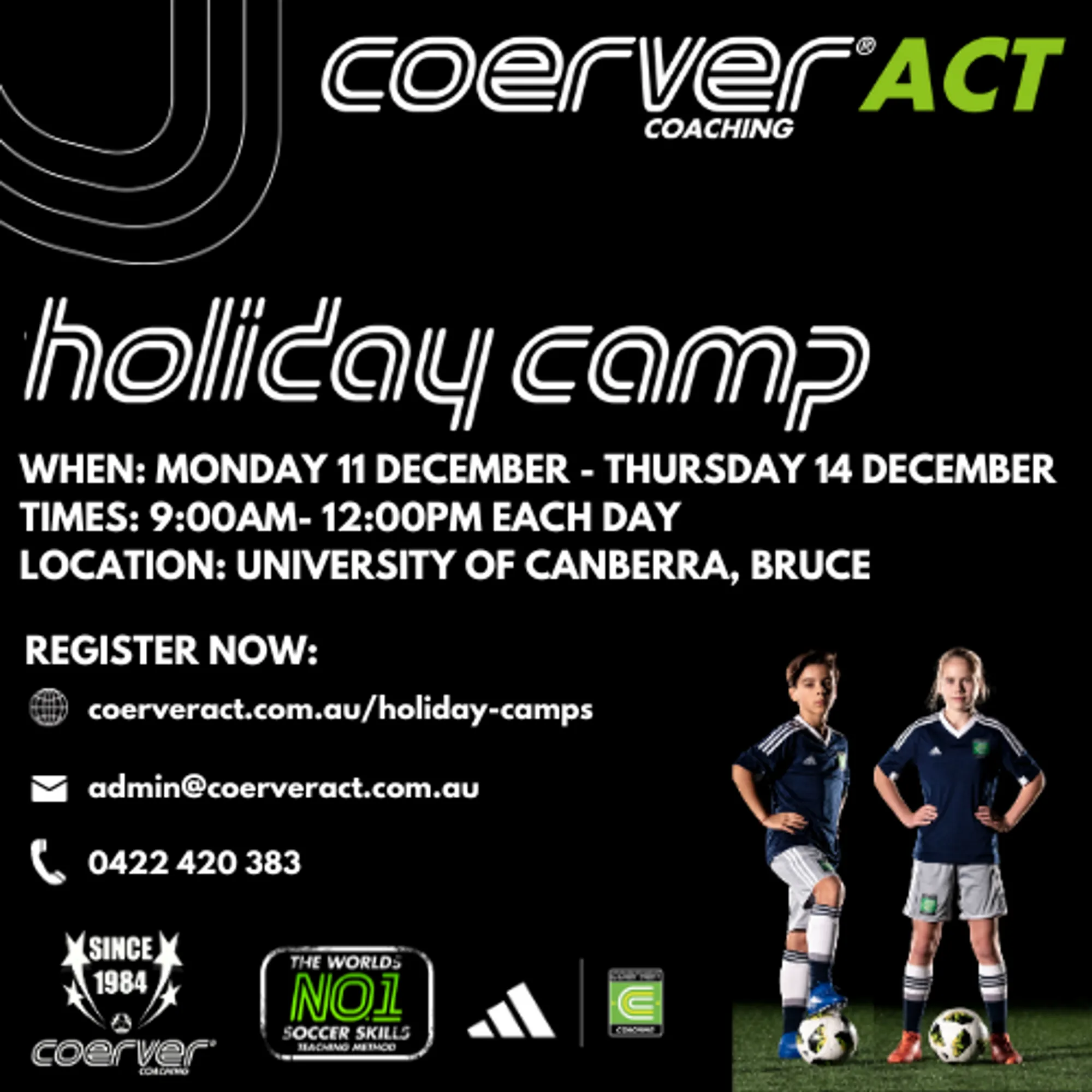 Coerver Coaching Holiday Camps offer a fun-filled soccer experience for children aged three to 16+ years. Each day will include ball mastery, one-versus-one attack and defence, receiving and passing, small-sided Coerver games and mini Coerver Cup tournaments.
Players who attend a Coerver Coaching ACT Holiday Camp receive:

12 hours of programmed Coerver Coaching sessions delivered by Coerver Diploma-accredited coaches.
A Coerver Coaching training shirt.
An Adidas training football.
Coerver Coaching Home Study Program.
Coerver Coaching Home Study Program online support.
Coerver Coaching certificate of attendance.
Dates: Monday, 11 December-Thursday, 14 December
Times: 9:00 am-12:00 pm each day
Venue: University of Canberra, Bruce
Registration link: https://coerveract.com.au/holiday-camps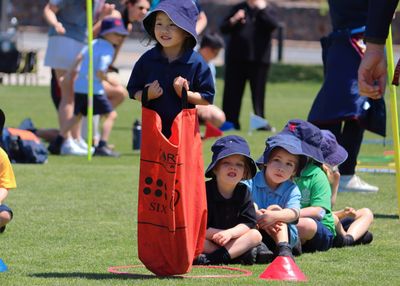 PK-1 Athletics Carnival 2023
A day filled with fun, competition and community spirit.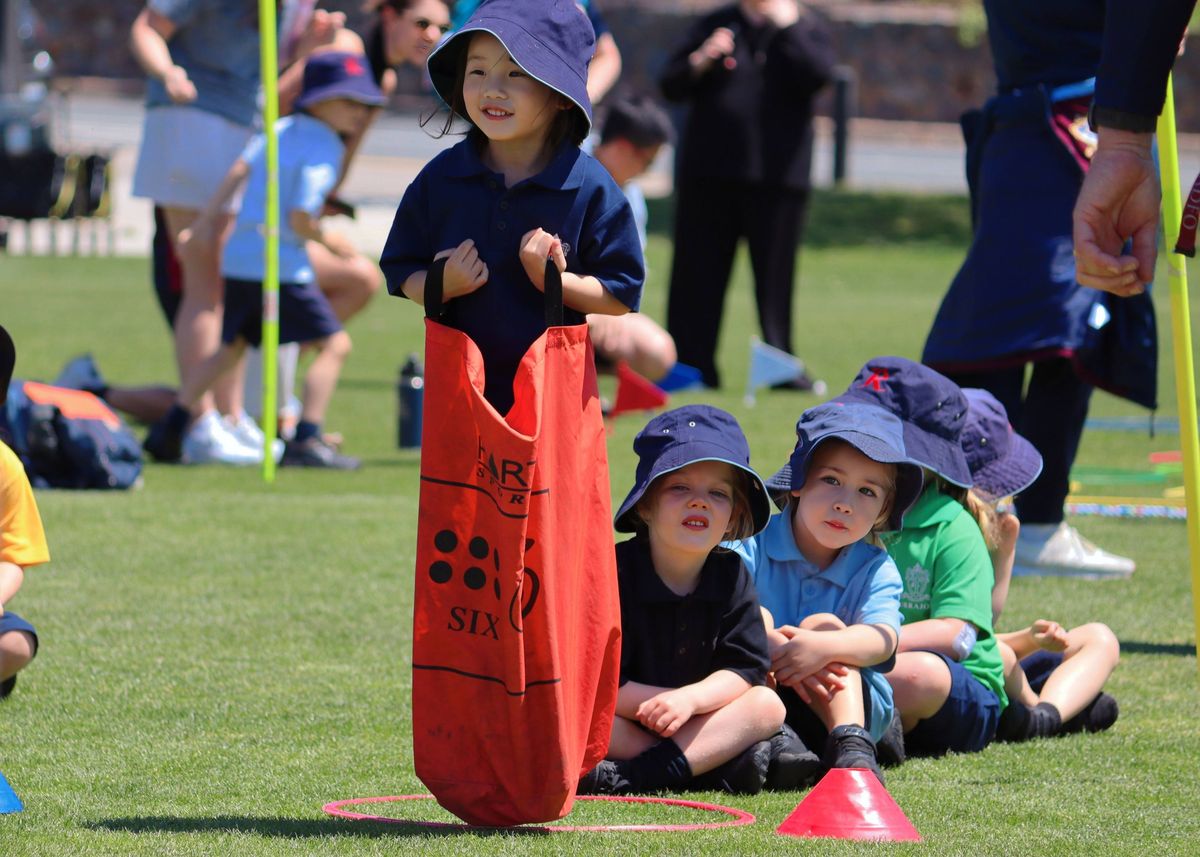 By Mrs Faye Robertson, Junior School HPE Teacher and Sports Program Manager
Recently, the Junior School held its annual Pre-Kindergarten-to-Year-1 Athletics Carnival.
The sunshine beamed down on the J.A. Mackinnon Oval while our smallest people took to the 50-metre grass track with vigour and commitment. Students had been practising their sprint starts, reaction times and running techniques in their physical education (PE) lessons. Their large efforts were evident as they tore down the track while fellow House friends cheered them on.
Parents, families, and friends cheered equally as loud from the opposite side of the track, eager to have a taste of friendly competition in the hotly contested parent, friends and teacher race. With a sneaky little head start, Mr Martin won the teacher race for 2023!
House chants, community spirit and smiling faces were the consistent themes for the remainder of the Carnival as students completed their jumping, throwing and running activities.
The 2023 PK-1 Athletics Carnival was a huge success, with excellent participation by all students involved. Thank you to all the Year 9 and 10 service-learning students who supported the event, as well as the Junior School PE team and sports team for organising such a wonderful, celebratory community day for our little people.
The History of our Crest and Motto
How did Radford College decide on its crest and motto?
By Mrs Annette Carter, College Historian
We had a wonderful response to the callout for next year's logo design as we plan our 40th celebrations. We have just chosen the finalists from 80 entries, and they will be announced in the coming week.
In a similar way, the original crest and motto for Radford College were designed, selected, and put to a vote.
The process started in 1983, when concerns were raised that a formal crest and motto would not be ready to prepare the uniforms in time for the school opening. Indeed, it was not until 1984, after Radford College officially opened, that a sub-committee considered options for the crest and motto. This is why the 'R' appears on the original blazers from 1984.
A letter was sent out to "students, parents, and friends of Radford" by J. A. Mackinnon, the first Principal, asking for suggestions for the motto as well as the symbols and principles that should be incorporated into a crest (designs could also be drawn and sent in). He wrote that these "are decisions which are going to have a long-lasting effect not only on the ethos of the College but also on the preparation of many different materials."
A total of 26 suggestions for the motto were received in response to Mackinnon's letter. Interestingly, compassion did not appear on this list. Some of the suggestions that went to the sub-committee were: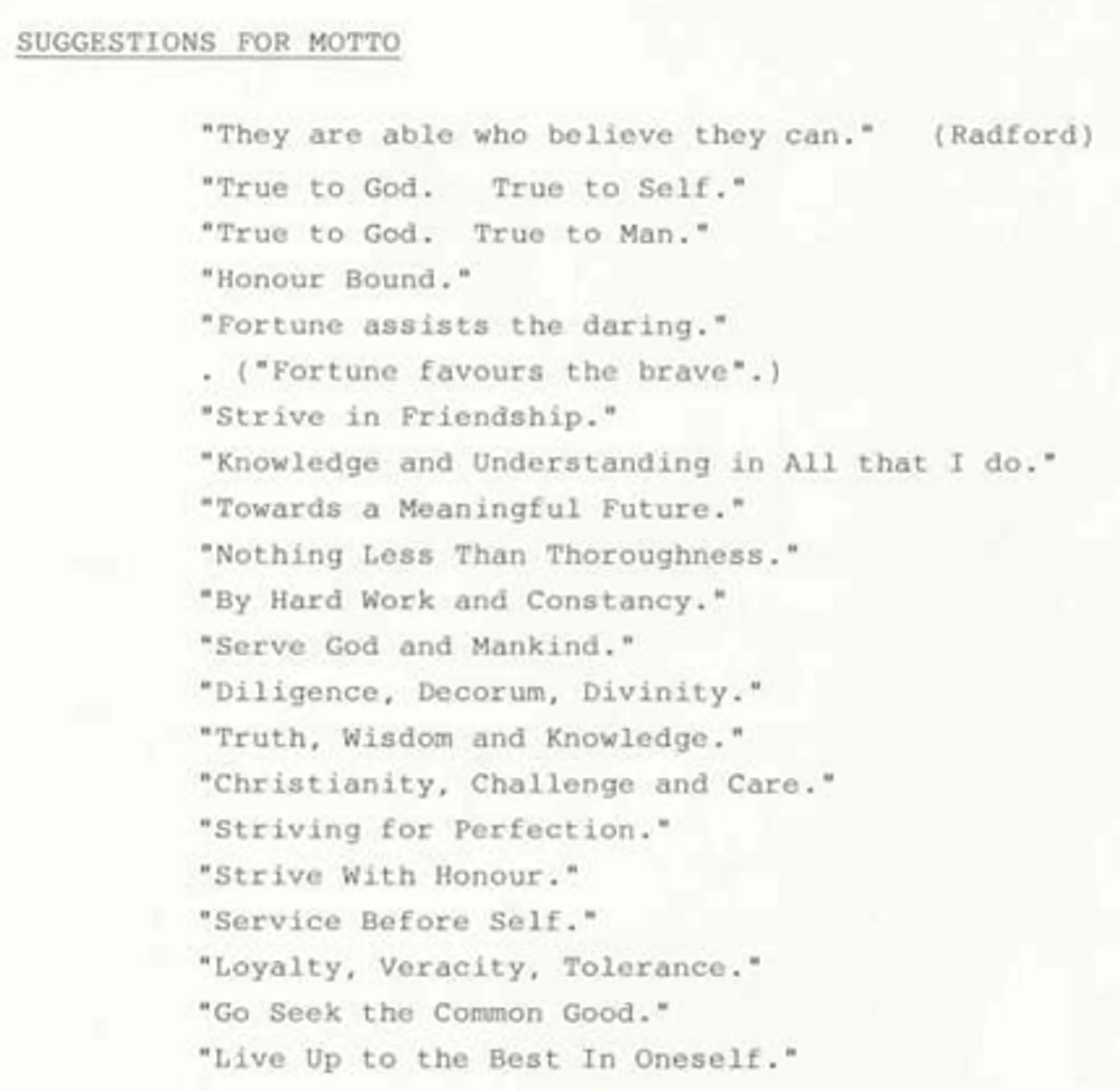 By 25 June 1984, the choices for the motto were narrowed down to six, with "Truth, Wisdom, Compassion" one of the options. When Radford College's current motto was finally selected, it was accompanied with the following words:
"The whole of life is a search for Truth, and for the living of truth within oneself: a true man or woman is the acme of mankind. Knowledge is power, but knowledge without Wisdom is force without direction or constraint. Wisdom shows us how best to use our talents, moment by moment. Above all is that love, charity, or Compassion which makes life worth living, helps us to help each other, is a positive force for good and fulfils the law of God."
Alongside these choices for the motto, the crest was being decided. There were many initial designs, including the Radford family coat of arms, as well as suggested symbols and principles that should be incorporated: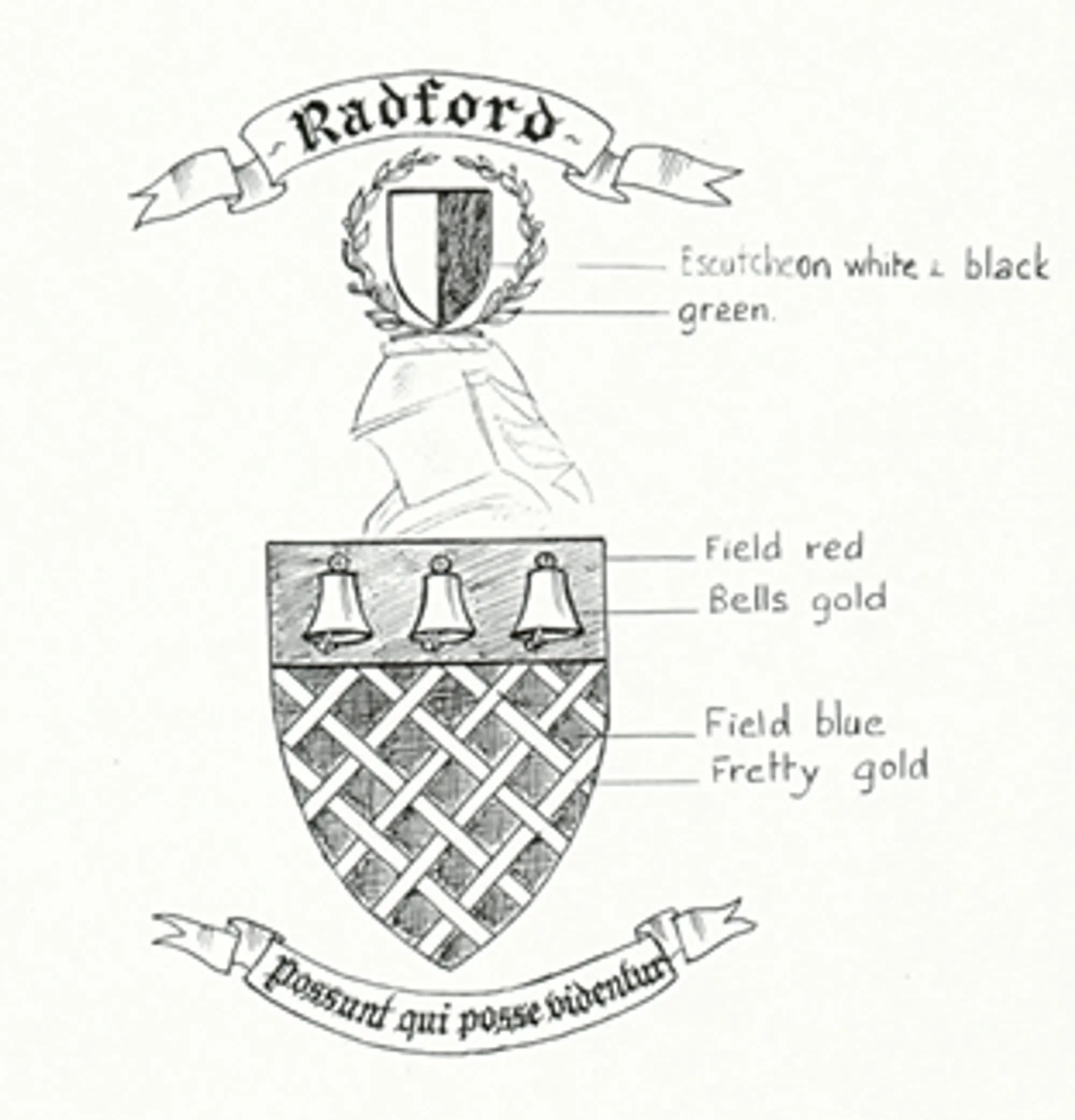 A handful of symbols and principles were selected, and several designers were engaged to incorporate them into artwork. The final entries were placed on the noticeboard outside the College library for people to vote.

Then finally, in 1985, the design by J.A. Yarra was chosen.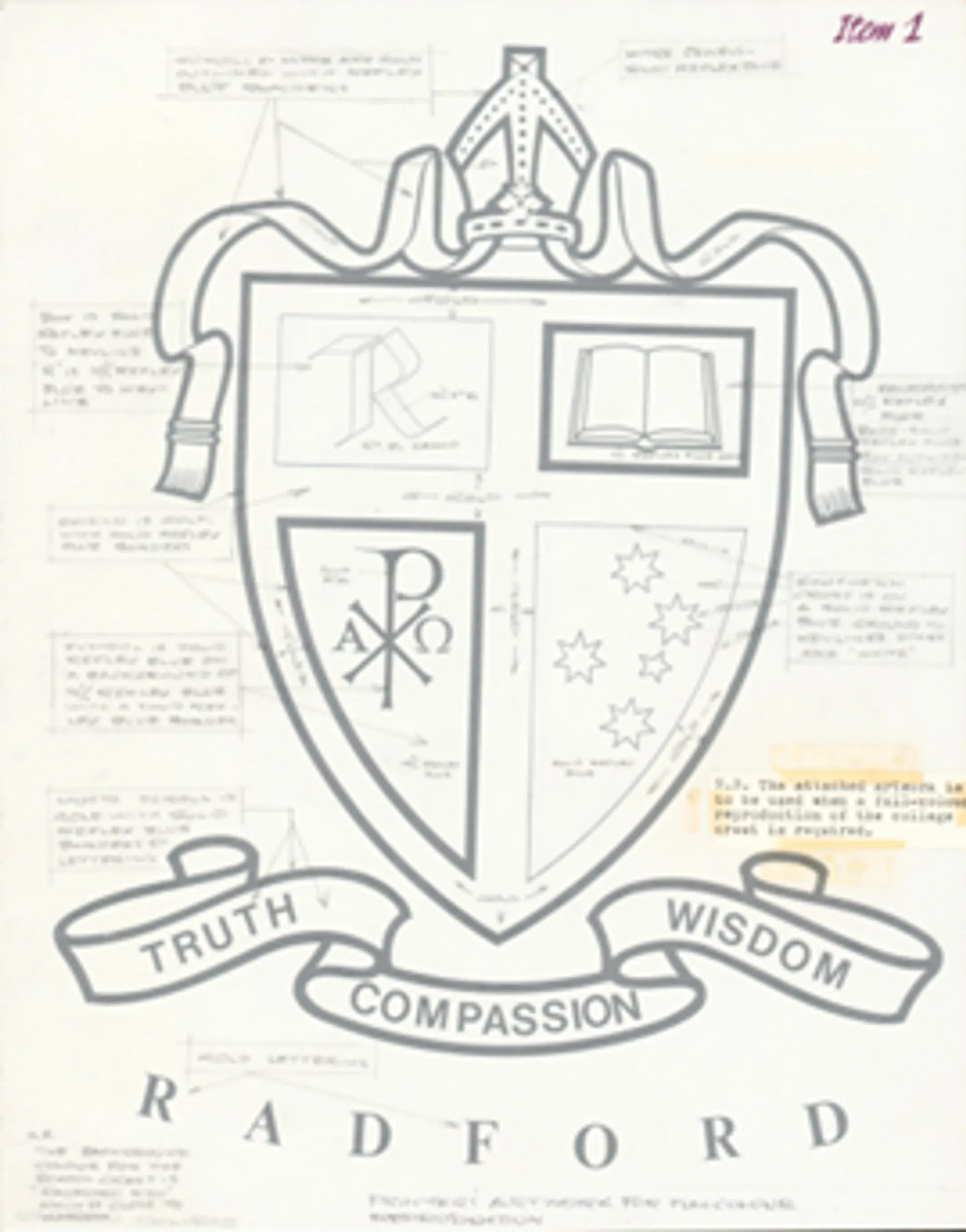 The symbolism incorporated into the winning Radford College crest were:
Bishop's mitre - Bishop Radford and Christian principles.
Book - Knowledge and desire to learn.
The Southern Cross - Service to ACT and Australia.
The Radford 'R' - Education available for all.
Alpha and Omega - Jesus is "the beginning and the ending of all things."
The chi rho - A monogram of the first two letters, chi (X) and rho (P) in the Greek word Christos (Christ).
When the motto and crest were finalised, then came the practicalities of changing the uniforms, with Mackinnon telling parents that they "will be informed of the availability of new pockets for the present blazers, but the change over from the present 'R' will not be compulsory in the 'phasing-in' period." The crest appeared on all new blazers.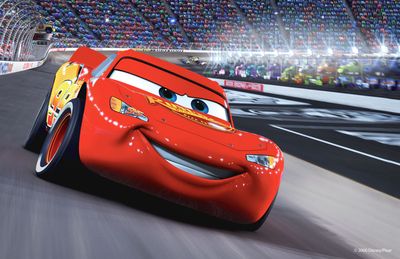 Movie Night Fundraiser
Join us for a fun-filled evening supporting Roundabout Canberra.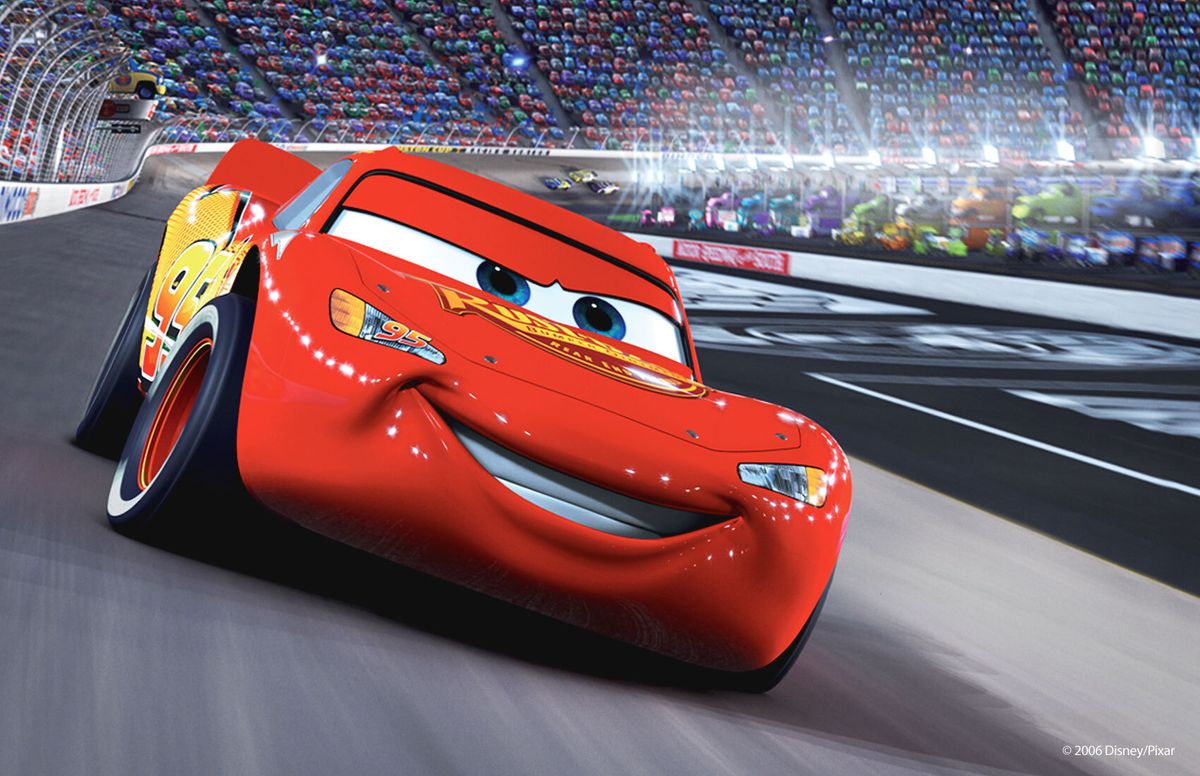 By Ms Ailsa Mackerras, IB DP CAS Coordinator and Highly Accomplished Teacher
To support local organisation Roundabout Canberra, students in Year 11 are organising a movie night screening Cars on Friday, 17 November, at Radford.
Entry is $5 to cover chips and a drink on the night. Other snacks will be available to purchase.
Roundabout Canberra provides high-quality, essential baby and children's items to families in need. All the funds raised from the sale of snacks at the movie night will go directly to the charity. Please also bring along any excellent quality clothing for children from 00000 to 16 years that can be donated to Roundabout. For more information about what they receive, click here.
So, get a group of friends together and come along from 4 pm on Friday to Morison level two. If you are interested in attending, please complete this form to assist us with arrangements. Please send any questions to ailsa.mackerras@radford.act.edu.au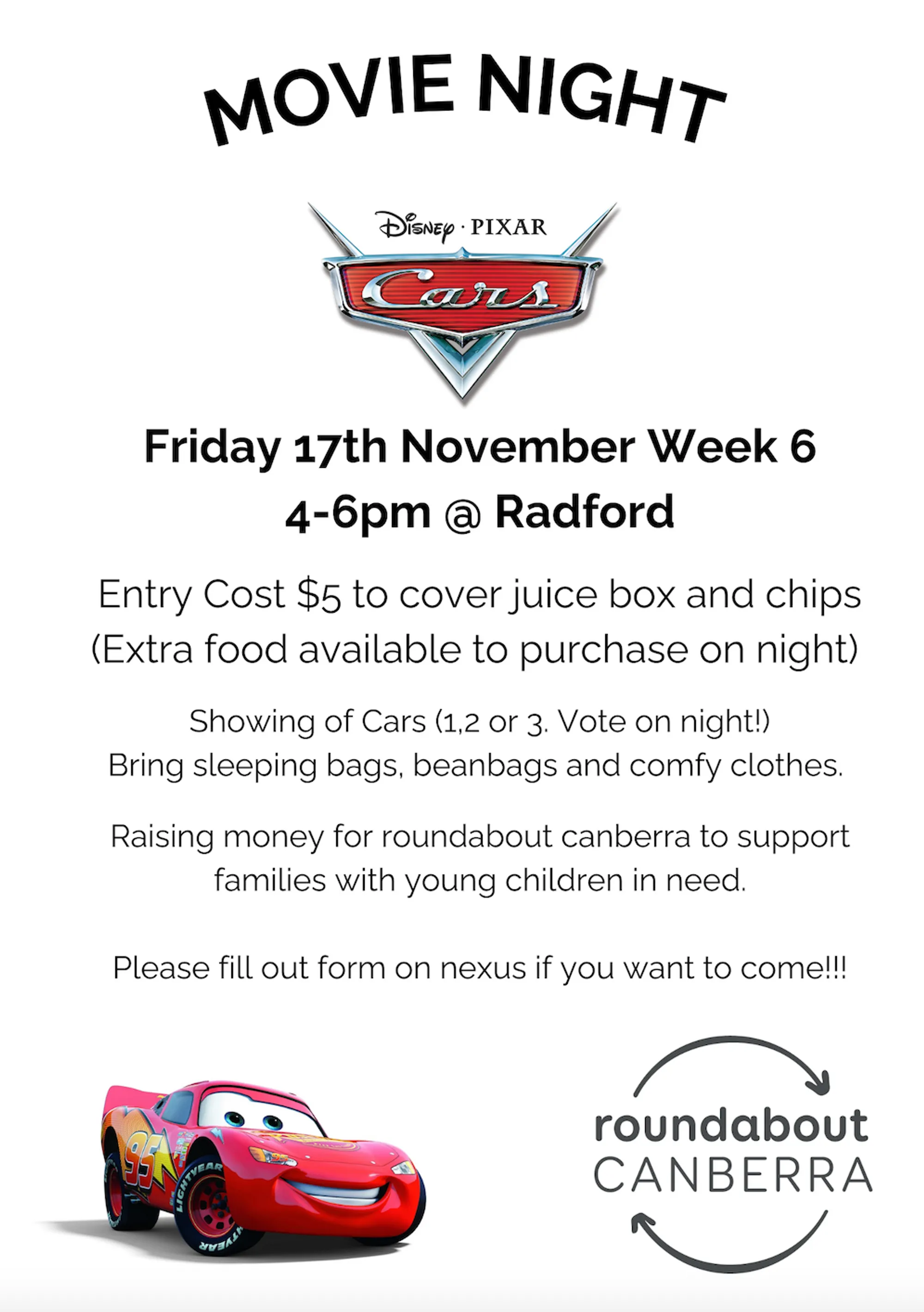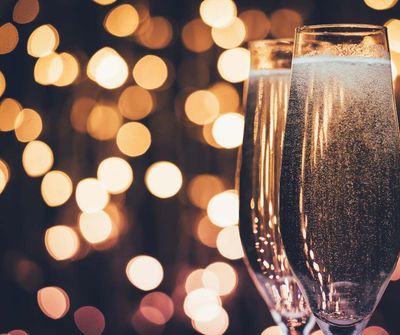 Collegians' Christmas Drinks
Please RSVP via the link in the article before 16 November.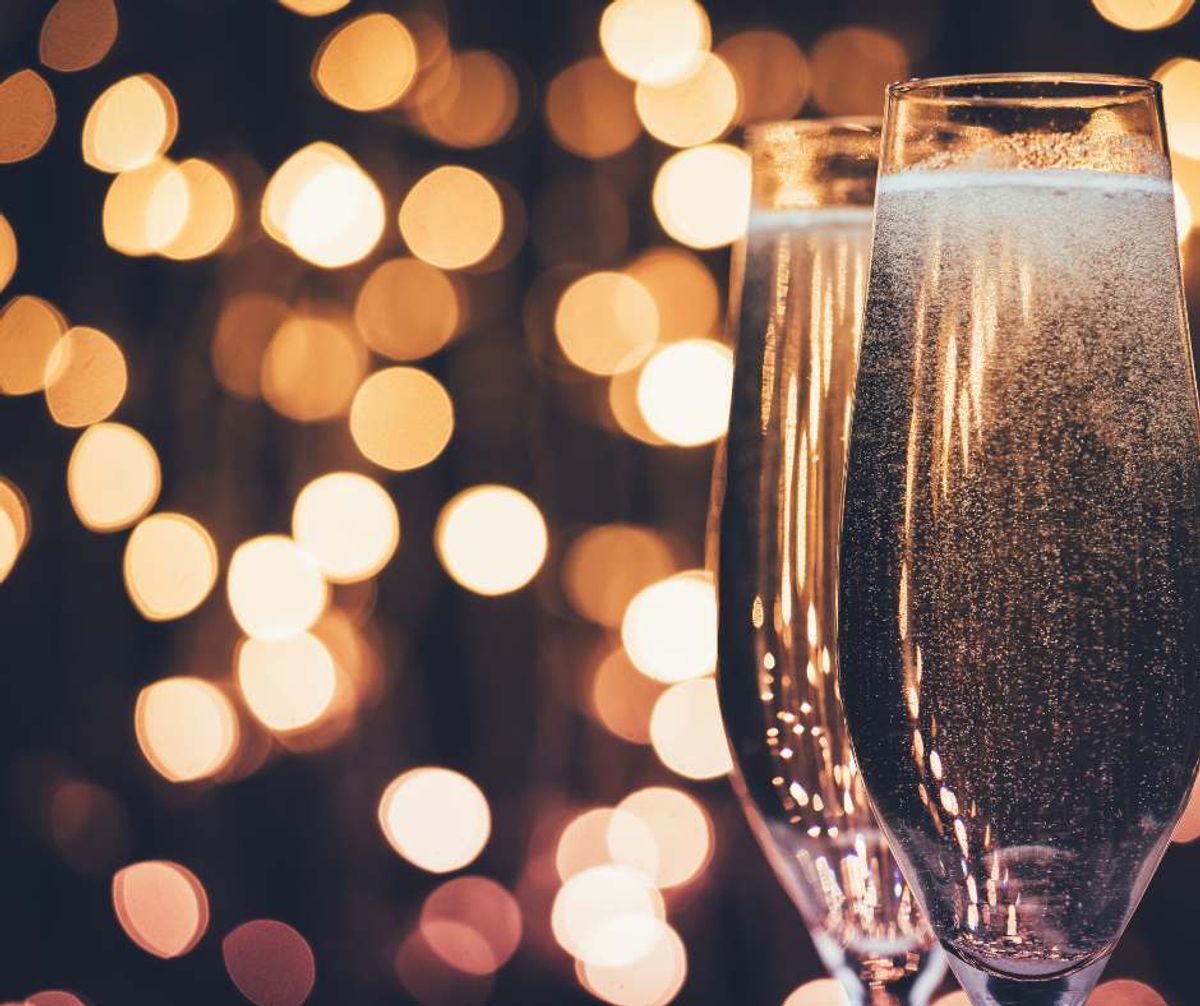 Radford Collegians are invited to join us for Christmas Drinks inside the new Collegians' Centre on the evening of Thursday, 23 November.
As Radford College approaches its 40th anniversary, we want to celebrate this milestone with our valued Collegians.
We welcome you and your family to join us for an evening of social drinks and delicious snacks. The atmosphere will be vibrant with live music and an opportunity to win fabulous lucky door prizes. The special event will also give you an exciting sneak peek of the Collegians' Centre.
To participate in the lucky door prize, simply bring your business card or a name tag will be created for you upon entry.
This is a complimentary event, so make sure to mark your calendars and secure your tickets now. Don't miss out on reconnecting with old friends and creating new memories this festive season.
Date: Thursday, 23 November
Time: 6-8 pm
Location: Collegians' Centre
Tickets: https://events.humanitix.com/c...