In the 1970s, a third Anglican school for Canberra was proposed. The pressure on the existing Grammar Schools, in 1980, meant it was deemed 'inevitable' that a third school was needed.
It wasn't until Canberra's population continued to grow in the 1980s, that the proposal turned into reality. The National Capital Development Commission reserved an 18-hectare site in Bruce between Haydon Drive and College Street. Construction started in 1983 but there was some that opposed the move. Members of the Trades and Labour Council and the ACT Teachers' Federation set picket lines at the site because they felt that the college was being built at a time of falling enrolments in the Belconnen area and government schools in the area were suffering from constrained budgets. After careful planning and consideration, Radford College was created.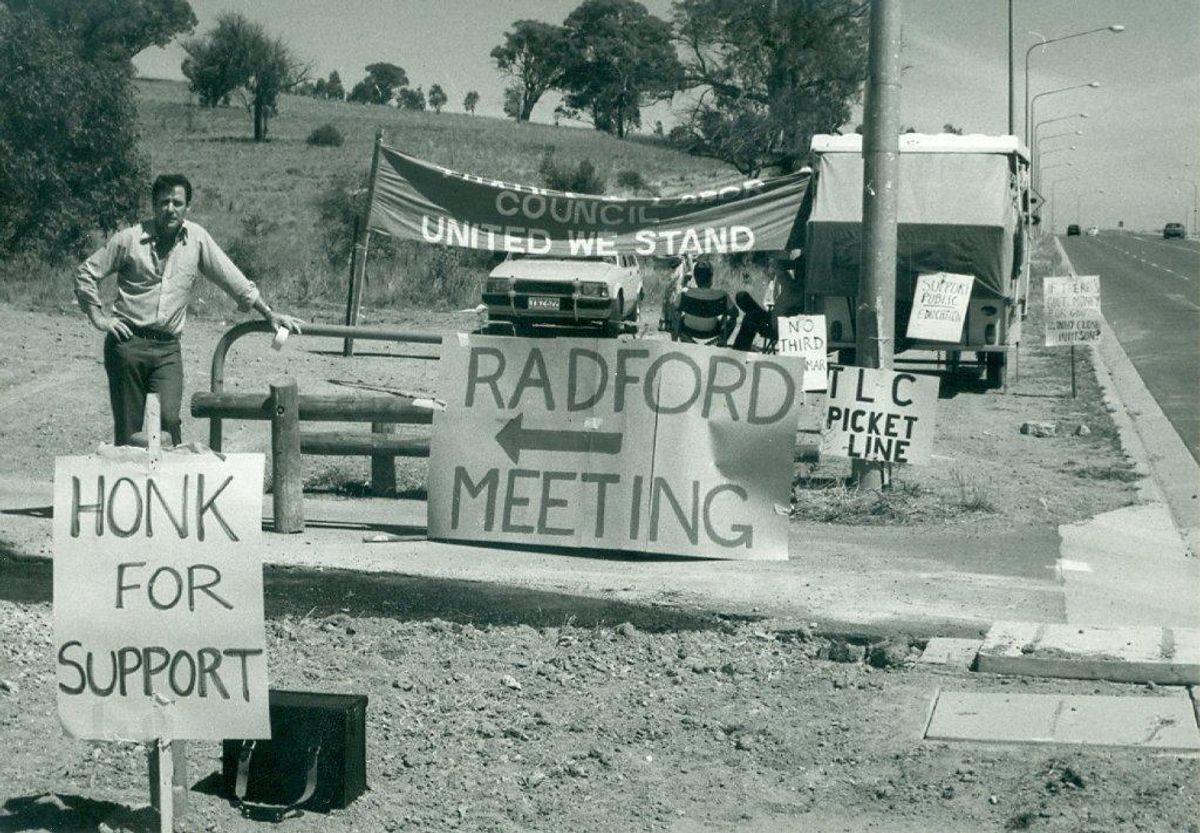 Picket line protest prior to construction, 1983
Formally founded in 1983, the foundation stone of Radford College was laid by Bishop Cecil Warren. It was officially opened in 1984 by the Governor-General, Sir Ninian Stephen with just 235 students and 15 teachers. As a school centred on inclusiveness, community, modernity and success, it grew very quickly in size and reputation.
Laying Foundation Stone
Today, there are 2088 students enrolled from Pre-Kindergarten to Year 12, with equal numbers of boys and girls across all year groups. The College is constantly developing to make sure we stay in touch with our students and the world, as the timelapse video of the campus map (below) demonstrates.
Radford College Principals
1983*–1988 Jock Mackinnon AM
1989–1992 Peter Casson
1993–2000 Graeme Wigg
2001–2008 David Mulford
2009–2013 Phillip Heath AM
2014–2023 Fiona Godfrey OAM

*Jock Mackinnon was appointed before the College opened.